Urban development
Road design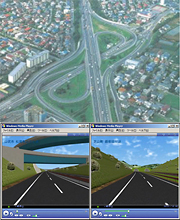 As the needs of residents and road users have diversified in recent years, the transparency of public projects has become more important. In the planning phase of a road project, objective quantitative evaluation using appropriate indexes is required in order to validate the need for the project. Explaining the evaluation results using easy-to-understand data has also become crucial. Up until now, workers in the road-designing field have had to spend a great deal of time collecting the various types of data needed for evaluation and analysis, and even more time tallying the collected data to obtain analysis data. Furthermore, the task of expressing the results in a visually understandable format has faced limits in terms of scope and available time and materials.
By merging its spatial solution technologies with the road and traffic planning field and utilizing its Geographical Information System (GIS), Kokusai Kogyo can centrally manage data and expand it onto maps. In this way, we make it possible to simultaneously satisfy the need for objectivity and for ease of understanding, significantly improving processing capability at the same time.

We develop schematic designs, preliminary designs, and detailed designs for high-standard highways and general roads.
By applying our spatial solution technologies to road design, we strive to shorten the task time and improve both design accuracy and the quality of the design results.
By first combining 3D topographical data with digital orthophotographs (digital aerial photographs) and overlaying design data on top, we provide a virtual reality (VR) view of the road space.