Urban development
Port and coastal information management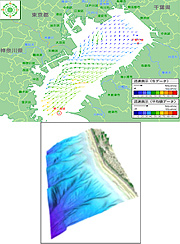 In Japan, there are a mountain of issues related to coastal areas, including the need to strengthen disaster prevention functions for all coastal areas, provide information on a timely basis, preserve and improve the marine environment, and promote advanced utilization of coastal areas. As a means of addressing the needs surrounding disaster prevention, the environment, and distribution in coastal areas that include commercial ports and seashores, Kokusai Kogyo is supporting comprehensive coastal area management that fully utilizes spatial information technologies.

Leveraging our advanced oceanic survey technologies, we capture 3D topographic data from the land to the ocean floor, and build detailed coastal topographic models essential for coastal erosion prevention measures and tsunami and storm surge countermeasures, as well as the maintenance and management of seashore preservation facilities.
To support comprehensive management of coastal areas, we promote the sharing, linking, and distribution of information through spatial information standardization, information provision via a clearinghouse, and by making proposals for effectively managing and maintaining information.
We are working continuously to improve operational efficiency and realize Business Process Re-engineering (BPR), by clearly identifying the services that should be provided by the government and building a common infrastructure database that has extracted the information all relevant institutions must share.