Urban development
GIS enabled community consensus building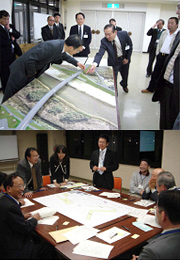 Kokusai Kogyo provides a wide range of consultancy services on urban and local city building, from master planning for an entire city involving general long-term planning, land use planning, scenery planning, and urban planning, to planning at individual project levels involving land reallocation projects, subsidy projects, and city-building projects with citizen participation.
We also provide comprehensive city-building support with the goal of creating an environment-friendly, low-carbon society that utilizes new energy sources such as photovoltaic power generation.

Support of cooperative city building

People are strongly demanding that cities be built with citizen participation and accountability for government's administrative measures. Placing importance on citizen consensus building through interactive venues such as city-building social gatherings and workshops, Kokusai Kogyo is supporting cooperative city building by working closely with local areas and building partnerships with their residents.

Utilizing orthophotographic images and GISs to provide easy-to-understand and credible output

In order to cope with the ever-increasing complexity and diversification of the information age, Kokusai Kogyo has established a solid database for spatial data that includes aerial photographs and topographical data, and is performing analyses and evaluations using GISs. Utilizing their results, we provide outputs that are easy to understand and credible to local residents.

Designing plans that are in line with the trends of the times and the needs of the citizenry


In response to the trends of the times and the needs of the citizenry, Kokusai Kogyo provides services in the following fields:

New energy sources, local revitalization through tourism development, urban planning, scenery planning, restoration of historical sites, urban district development, urban renewal, urban environment, inner city revitalization, urban development, roads and new transportation means, urban traffic surveys and urban planning surveys, parks and vegetation, sewage facilities, and urban disaster prevention.