Urban development
River works (sabo dam) design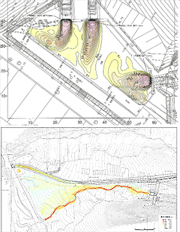 The frequent occurrence of sand and stone avalanches in recent years has resulted in a strong need to develop efficient countermeasures. With our aerial perspective, Kokusai Kogyo can identify the optimum locations for and design any necessary preventive structures. We also offer design services that include identifying the optimum locations for micro-hydro plants, as well as using our GIS to fully address associated environmental issues and help achieve a low-carbon society.

Our aerial perspective and ample experience enable us to design rational and effective facilities.
To effectively utilize the existing facilities, we run numerical simulations to validate their effects and make improvements in their design.
We design facilities that are friendly to the environment and preserve the scenic beauty of the locale by, for example, utilizing locally sourced lumber.
We can design facilities linked to micro-hydro plants.