Climate change countermeasures
Road maintenance and management operations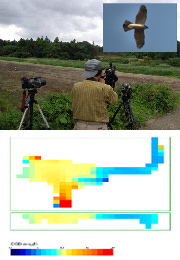 With the enactment of the Environmental Impact Assessment Law in 1999, the previously uniform environmental impact assessment methods were customized to suit the characteristics of individual regions. Then in 2008, the Basic Act on Biodiversity of Japan was enacted, making it ever more important in smoothly carrying out various types of business operations, to develop effective environmental preservation measures that consider both the human habitat and the natural environment of the locale. Employing its wide array of survey and analysis technologies, Kokusai Kogyo can accurately handle a wide variety of projects.

Utilizing our spatial information survey/analysis technologies that use aerial photographs and satellite images, along with our spatial model generation technology, we process environmental data that has been collected in a 2D format into an easier-to-understand format to support environmental monitoring.
Leveraging our consulting expertise in the fields of ecological restoration and environmental preservation, we help our clients create effective and efficient survey plans.