Climate change countermeasures
River environmental assessment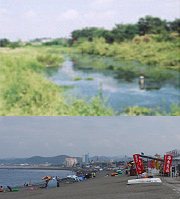 All riverine/marine enterprises must be based on plans that ensure environment-oriented transparency and fairness, and place disaster prevention at their core. While being fully cognizant of the end user's objective, Kokusai Kogyo addresses these needs by leveraging its survey/data analysis and utilization technologies as well as its expertise in working with communities.

We objectively assess the environment using aerial photographs and satellite images, and present the extracted results in ways that are easy to understand for the general public.
We help create a framework for collaboration and cooperation by smoothly coordinating discussions between citizens and the government in forums where citizens participate.
We help our clients smoothly execute Private Finance Initiatives (PFI), which involve the construction, maintenance, management, and operation of public facilities, utilizing capital as well as managerial and technical capabilities from the private sector.