Climate change countermeasures
Consulting and Surveys related to REDD+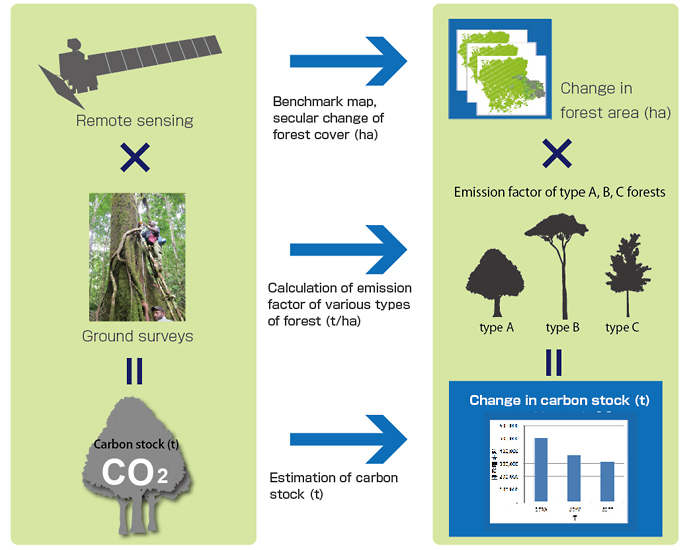 Reducing emissions from deforestation and forest degradation (REDD) is a mechanism (under negotiation by the United Nations Framework Convention on Climate Change since 2005) has two objectives: mitigating climate change through actively reducing greenhouse gas emissions, and removing green house gases through enhanced forest management of forests in developing countries.
To move forward with REDD+ (with sustainable management of forests, conservation of forest carbon stocks and enhancement of forest carbon stocks constituting the "+" in REDD+) activities, it is necessary to conduct monitoring of carbon stocks in developing countries that have insufficient statistical data.

We provide highly precise data on forest area and carbon stock dynamics.
We conduct analysis of measurement data such as from ground sampling surveys, satellite remote sensing, airborne laser scanners and radars.
We are actively working on REDD+ projects in many developing countries such as technical transfers involving training at local institutions.
We propose optimal solutions from a global viewpoint to various issues on the road to advancing REDD+ based on our ample experience and accumulated data from many years working – particularly on overseas development aid projects – in developing countries.
Kokusai Kogyo's authoritative book "Environmental business reaching a turning point: REDD+ explained" was published by ASCII Media Works on 17 January 2013.

Environment and Energy Forum "Private sector and REDD+: possibilities" was held successfully on 11 December 2013.