Climate change countermeasures
Volcanic risk reduction consulting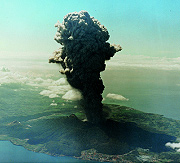 Japan is located on one of the most volcanically active archipelagos in the world, where nearly 10% of all volcanoes are concentrated. In the recent past, volcanic eruptions occurred at Mount Usu and Miyakejima Island, reminding us of the extent of damage volcanoes can bring. However, it is possible to minimize their damage by detecting the precursor phenomena of volcanic eruptions and implementing the necessary countermeasures according to the unique characteristics of each volcano.
In preparation for inevitable eruptions, Kokusai Kogyo is striving to reduce volcano-caused damage by working to understand the characteristics of individual volcanoes, identifying danger zones, creating disaster prevention plans that incorporate analysis data, and improving the disaster preparedness of local residents.

We create accurate volcano hazard maps utilizing geological surveys and numerical simulations.
By developing eruption-disaster and countermeasure scenarios, we create volcano disaster prevention plans with time lines incorporated.
To help local residents and tourists become fully aware of the danger of volcanic activities, we create volcanic disaster prevention maps containing various types of pertinent information.
By creating disaster prevention maps with the help of our geographic information system (GIS), we help develop evacuation plans that include estimates of facility damage and the number of expected evacuees.