Climate change countermeasures
Road disaster prevention capacity assessment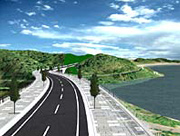 Using data on the evacuation and emergency transport measures that have been required during disasters, we run simulations on the types and locations of road transportation obstacles that could occur, to identify problems and issues related to road structures and road transportation management.
We also organize the various types of measures that will have to be implemented, from the perspectives of both humans and infrastructure, to minimize road damage and secure the road functions needed following a disaster.
Furthermore, we evaluate the short-, medium-, and long-term priority of such measures and propose a future operational plan.

We help you forecast the size of potential disaster and develop disaster scenarios.
We collect and organize data on the distribution of road facilities, such as bridges, tunnels, retaining walls, and slopes, as well as their damage and repair history, and topographical and geological conditions, to help you utilize this data for maintenance and management (using a GIS).
We offer comprehensive operational support, including the development of road data management structures, initial response structures for road managers, and coordination with other organizations.
When a disaster strikes, we quickly collect topographical data, to assess the current situation and problems, identify the measures to be implemented, and develop plans for future policies.