Climate change countermeasures
Regional DRR planning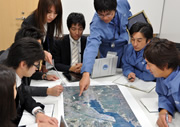 Regional disaster plans, made by each local authority under the disaster measures basic law, outline the measures the public sector should take against natural disasters such as earthquakes, floods and strong winds.
These plans become the basis for regional disaster risk reduction (DRR) and preparedness activities and stipulate post-disaster relief, recovery and reconstruction measures.
Disaster risk reduction and preparedness involves many stakeholders besides the local government department in charge of DRR including fire departments, police, lifeline companies and community groups.
By outlining ways of achieving such collaboration between these varied DRR stakeholders, regional disaster plans can ensure greater efficiency in DRR measures.

We make highly practical disaster plans by accurately grasping the division of duties of various government institutions based on our extensive experience consulting and providing services for local governments.
Our disaster plans precisely capture the characteristics of disasters in a region.
We also make emergency response manuals based on the regional disaster plan that clearly and concisely state the actions that local government employees should take in the event of a disaster.