Climate change countermeasures
Hazard map creation
Disaster Prevention Map and Hazard Map Creation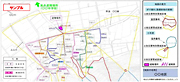 Communicating potential disaster locations to residents helps ensure safe evacuation in the event of a disaster and also helps improve their disaster prevention awareness.
Utilizing its solid performance record, Kokusai Kogyo can provide truly useful hazard maps.

Our maps enable you to see dangerous areas at a glance.
Because our maps depict damage caused by past disasters, they increase users' awareness about the dangers of an area.
Our maps show the locations of individual houses and buildings along with evacuation locations.
Our maps designate routinely used roads as evacuation routes.
We provide consulting services that include establishing a framework that encourages residents to use hazard maps.

Real-time Hazard Map System (Landslides, Earthquakes, and Fires)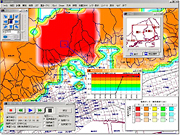 The real-time hazard map system was developed to support the timely issuance of landslide warnings and to ensure smooth evacuations. The system displays the ever-changing degree of danger from landslides on a real-time basis.
Utilizing the features of our GIS and overlaying various types of disaster prevention information on dynamic risk data, our system eliminates the problems associated with conventional hazard maps, which show only static data on the danger of disasters.

Our system can comprehensively monitor situations over a wide area.
Our ability to monitor multiple reference rainfall levels as they are reached results in improved monitoring efficiency.
By making a comprehensive determination that adds subsoil risk data to the rainfall index, we can identify locations that require early and focused countermeasures.
Utilizing the analytical functions of our GIS allows us to efficiently identify safe evacuation sites and the shortest routes to get to them.
We can reproduce the risk data from past events and utilize it for disaster training and disaster drills.