Geospatial × ICT
Official distributor of Satellite imagery (ALOS, IKONOS, SPOT)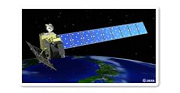 In recent years the resolution of satellites has increased dramatically. IKONOS launched by the USA has a resolution of one meter, while Japan's ALOS has a resolution of 2.5 meters. Kokusai Kogyo has been proactively developing new remote sensing technologies for use with a variety of satellite images. We provide geospatial surveying solutions using such remote sensing technologies as well as sales of satellite imagery as an official distributor.

IKONOS satellite imagery: the world's first commercial high-resolution satellite, with a resolution of one meter. These images are consistent with no distortion and have no issues of building lean and so on because they are shot from space at a height of 680 km.
ALOS satellite imagery: Kokusai Kogyo can provide imagery for anywhere in Japan.

ALOS is equipped with three earth observation sensors.

- Panchromatic Remote-sensing Instrument for Stereo Mapping (PRISM) to measure precise land elevation,

- Advanced Visible and Near Infrared Radiometer type 2 (AVNIR-2), which precisely observes what covers land surfaces, and

- Phased Array type L-band Synthetic Aperture Radar, which enables day-and-night and all-weather land observation.