Geospatial × ICT
Geospatial information database service
PAREA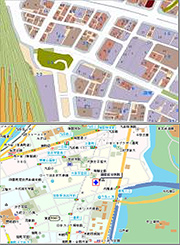 PAREA is Kokusai Kogyo's geospatial information database. It is an up-to-date information platform, adapted into four series to flexibly meet the various needs of our clients.

AreaMap Series consists of polygon data of various boundaries such as between each post code area.
-Is an extremely detailed point database of every suburb of Japan down to individual property boundaries.
GeoMap Series consists of road and topography data.
-Is a road map database covering roads, rivers, coastlines, railways, and boundaries between cities, towns, villages, etc., and also contains information for predicting traffic conditions.
Information Series consists of landmark data with attributes.
-Is a database containing locations of every kind of landmark such as hospitals, schools, dentists, post offices throughout Japan, as well as attribute information for every landmark.
StatSeries is a series of statistical data.
-Is a database of the population and number of households in each area of Japan down to the level of postal codes, and also ranks every household according to income level.