Geospatial × ICT
Application service provider (ASP) of various proprietary software including
Market finder @SP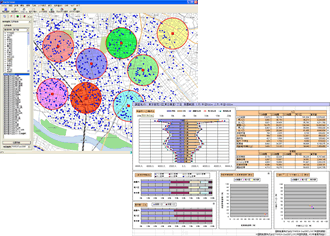 Marketing GIS can be used over networks such as the Internet through application service providers (ASP). MarketFinder@SP is an application service provided by Kokusai Kogyo for trade area analysis, store location planning, customer relationship management (CRM), customer data analysis, management of sales territories, strategic planning and so on. It is a service with a high cost-performance ratio. For a minimal monthly fee one can access a wealth of statistical and geospatial information in this easy to use and highly functional application. Moreover, it can be customized to suit the needs of individual clients.

We provide an application service via the Internet for business clients.
Being an ASP it has several advantages such as doing away with troublesome tasks like installing and setting up software, reducing costs and work involved in upgrades, and allowing access from a range of devices.
eospatial and statistical information are constantly being updated and maintained at the application service center.