Geospatial × ICT
Tailored GIS solutions based on ArcGIS platform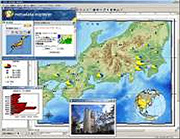 ArcGIS is the world's most popular GIS software, with more than 500,000 users worldwide.
Kokusai Kogyo, an official ArcGIS distributor, has a range of powerful proprietary tools to easily display (visualize), search, manage, analyse and edit geospatial data in combination with data from all aspects of society.

ArcView


For combining geographic and locational data with other related data. Has a range of tools for utilizing such data: display, search, analyse, manage, edit, print, etc. It is the world's most popular high-performance GIS software.

ArcEditor


In addition to all of the features of ArcView, it is equipped with advanced tools for building spatial data models and editing spatial data. As well as functioning as a GIS for editing high-spec data, it can be used to edit GIS databases and for client management.

ArcInfo


In addition to all of the features of ArcEditor, it has a full range of advanced data processing functions. It is widely regarded as the pinnacle of GIS software and is the world standard for GIS professionals due to its extensive range of tools.