Base technologies
Capturing Data from Space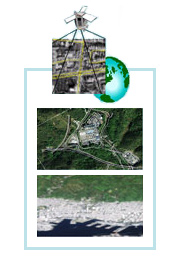 Satellite Observation
Since the 1970s when the use of manmade satellites began, Kokusai Kogyo has been actively working to improve remote sensing technologies.
Today, a spatial measurement technology utilizing satellite images is one of Kokusai Kogyo's core technologies for capturing spatial information. Both our spatial data acquisition method utilizing satellite images and aerial survey technologies, our other core technology, have been established as production lines.
Kokusai Kogyo is committed to continue improving its spatial measurement technology utilizing satellite images in order to provide spatial data products that offer more accurate reproducibility of real space.

Because satellite images are captured at high altitudes, they provide more stable images, with less distortion than aerial photographs, over a wide area (smallest imaging unit: approx. 10 km or more per scene), and produce a larger volume of data (11 bits or more in 4 bands).
Our technology offers positioning accuracy at the 1/5,000 to 1/10,000 level, as well as terrestrial object identification and drawing capability. Captured images can be effectively utilized as data for correcting or updating spatial data or map data currently in use.
When combined with another element such as height data (DEM), our satellite images can be expressed as a 3D model, making it easy to create realistic scenery, birds-eye-view computer graphics, and animation. Furthermore, our satellite images are extremely useful for assessing the situation in a wide-ranging disaster area, which would otherwise be dangerous, and making disaster forecasts. In such situations, images can be used to create 3D visual animations and utilized as an information dissemination tool that can be easily understood by residents.