Base technologies
Terrestrial Survey

Vehicle-Based Survey (MMS:Mobile Measurement System)
Social capital in Japan is shifting from an era of building (construction) to an era of using (maintaining/managing) infrastructures while improving their quality. It is becoming essential to minimize the lifecycle cost necessary for maintaining/managing the roads that are so essential to our lives, as well as the public spaces created by these roads, while improving the service level.

MMS (Mobile Measurement System) is an excellent technology for efficiently and effectively collecting the information necessary for managing road assets. Kokusai Kogyo's mobile mapping technology can provide asset management information that suits individual needs from collected roadside images and the Airborne Laser Scanner.

From the collected images, we evaluate the condition of a road surface (determined based on the cracking ratio). Based on the assessment result, the user can create a prevention/maintenance plan and develop a maintenance/repair budget.
From the collected images, we can check and evaluate facilities related to roads. The information is useful for checking the content of road signs, the state of deterioration of guardrails, and the posting of illegal advertisements.
The collected images and evaluation results can be easily viewed on a personal computer using a viewer linked to a Google Maps.
Efficiently builds road information base data.
Road scenery evaluation results can support future qualitative improvements to social capital.
Helps build a safe and sound society by evaluating the health of the roads.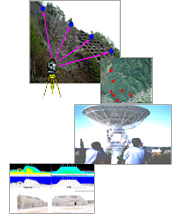 Positional Information Survey (Geo Survey)
Geo survey can be used for a wide variety of applications, such as establishing a reference point for an area of land, surveying routes for road building, and boundary surveying for establishing the boundaries between roads and private land. At Kokusai Kogyo, we call these measurement technologies and related survey technologies, "geo survey technologies" and, because the acquired coordinate and altitude data become permanent reference data for indicating positions, we consider this data to be "location information platforms."
In order to rationally organize location information platforms having various levels of precision depending on their purposes, Kokusai Kogyo has developed the latest technologies and methods for application to various situations.

GPS survey: This is a survey method that uses satellites to determine the position of an object based on a reference point and, depending on the observation method used, can provide a highly precise static survey or an efficient dynamic survey. The latest VRS-GPS, which can be used for surveys by one surveyor alone, is winning high praise as a low-cost, high-efficiency survey method. It is ideal for surveying reference points, landslide movements, etc.
Precision survey: This survey method uses a high-precision total station to determine the 3D relative positional relationship at approximately 1-mm precision. It is ideal for surveying distortions of bridges, surveying ground movements during construction work, etc.
High-density survey: This is a survey method that uses a terrestrial laser scanner to obtain surficial information, and can perform high-density shape data measurementinvolving more than several million points in just a few minutes. It is ideal for surveying the detailed shapes of archeological ruins or a dangerous rock base, etc.
Submarine/underwater survey: This survey method uses the "SeaBat" (narrow multibeam sonar system) to obtain detailed terrain data of the ocean floor, for example. The "SeaWatcher" (ocean radar) or the like can be used to collect current direction / current speed (velocity) data on the surface of the ocean over a wide area.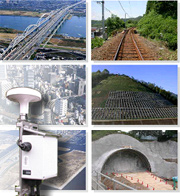 GPS-based displacement monitoring
This is a maintenance and management support service that uses a GPS-based automatic measurement system to measure dislocations of the subsoil or building structures in 3D, in mm units, on a real-time basis, in which full-time engineers monitor the measured dislocations 24 hours a day, 365 days a year. Essential disaster prevention information, such as this measurement data, is provided via the Internet for a fixed monthly fee.

We use the latest GPS-based automatic measurement system to measure dislocations of the subsoil or building structures in 3D, in mm units, on a real-time basis.
Our full-time engineers monitor the measured dislocations 24 hours a day, 365 days a year and notify (telephone or e-mail) the customer when any abnormality is detected.
We offer analysis using a trend model results in highly precise (approximately 2 mm) dislocation measurements.
Customers can use the Internet (or mobile phone) to check the latest measurement results.
In addition to the measured dislocations, we also deliver climate information such as rainfall and weather forecasts.
The service is available for a low, fixed monthly fee (which includes both the GPS unit and the communication expenses).

Geological Survey
Even ground surfaces that look the same contain different rocks underneath. To assess the condition of subsoil that must support a structure, a geological survey is essential.
Utilizing the latest terrain analysis technology for reading aerial photographs and interpreting LP data analysis results, Kokusai Kogyo is able to carry out efficient and effective geological surveys.

We carry out efficient geological survey by combining walk-over surveys with boring, etc. depending on the customer's needs.
Our geological surveys are combined with analysis results of aerial laser survey data to improve surveying accuracy.