Base technologies
Underground Survey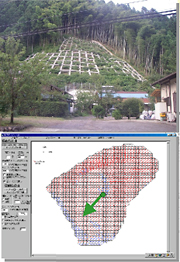 Underground Geology Analysis
Recently, in efforts to develop social capital, society's focus has drastically shifted from quantity to quality. Geological surveying now requires technologies from a wide range of fields, in addition to those used for interpreting topography and surveying geological characteristics. In addition to the services it has always offered, Kokusai Kogyo is now also offering the latest, most efficient and comprehensive geological consulting (developing planar information from points and line data by utilizing a spatial information technologies), using new survey, measurement, and analysis technologies.

In each type of survey, we utilize the latest spatial information technologies, including the use of LP data, to produce results that are easier to understand and more credible than ever before in various fields including disaster consultancy and the environment. Our survey methods include the use of a terrestrial laser scanner for quickly surveying topography, a Hi-Vision system for visualizing shape changes in tunnels, etc., and a thermal image analysis system for quantifying the shape changes of structures such as bridges and the faces of slopes. These systems allow us to produce highly accurate quantitative evaluation results solidly backed by data, and in this way to contribute to the maintenance/management field.

Furthermore, we provide a wide range of services by utilizing this base data and by building GISs that fully utilize the latest digital technology useful for efficient management and information disclosure. We will continue to offer comprehensive consultancy services in the fields of subsoil, groundwater, subsoil environment, disaster prevention, rivers, and erosion control, with attention given to efficiency, safety, and co-existence with the environment.

Applying the latest terrain analysis technology to slope disaster prevention, we suggest efficient and effective surveys and countermeasures.
We combine our solid record in topographical/geological analysis with the latest ground analysis technology to conduct civil engineering and geological surveys, utilizing the results to develop highly cost-effective designs.
We also offer services in the field of environmental geology, including survey of the problem of naturally occurring heavy metal pollution, as well as vegetation analysis using spatial technology.
In addition to conventional soil surveys and safety investigations, we can suggest measures for river levee safety by utilizing our spatial information technology.
Based on our ample survey records and groundwater analysis technology, we perform groundwater impact assessment related to road and river construction projects.
Through full utilization of the latest survey technologies, we are able to help our customers maintain/manage structures and various facilities, with a focus on lifecycle cost reduction and useful life extension.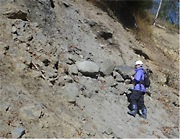 Geological Survey
Even ground surfaces that look the same contain different rocks underneath. To assess the condition of subsoil that must support a structure, a geological survey is essential. Utilizing the latest terrain analysis technology for reading aerial photographs and interpreting LP data analysis results, Kokusai Kogyo is able to carry out efficient and effective geological surveys.

We carry out efficient geological survey by combining walk-over surveys with boring, etc. depending on the customer's needs.
Our geological surveys are combined with analysis results of aerial laser survey data to improve surveying accuracy.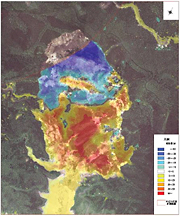 Land Deformation Analysis (Assessment of Sand Movement Volume and Ground Surface Movements)
Based on a complete understanding of surveying principles, Kokusai Kogyo can suggest an effective and economical laser survey that is uniquely tailored to the customer's actual application. Furthermore, the expertise we have derived from our experience of handling a rich mix of data allows us to determine the soil erosion volume and ground surface movement from ground surface survey data collected from at least two points of time.

We quantitatively determine the soil erosion volume and ground surface movement from high-quality ground surface survey data collected from at least two points of time.
Using a differential analysis, we express changes in the ground surface following an earthquake or torrential rain in easy-to-understand planar representation.
We assess detailed movements of soil by comparing cross-sectional data before and after an event.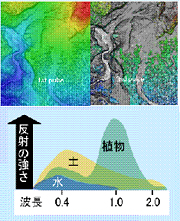 Ground Surface Characteristics Analysis (Assessment of Landslide Distribution)
Kokusai Kogyo's patent-pending pulse/reflection intensity technology can automatically identify bare land and ruptured ground areas, helping make the utilization of Airborne Laser Scanner data more effective.

This technology automatically identifies bare land and ruptured ground areas based on proprietary laser survey data processing.
This technology can identify bare land and ruptured ground areas that are in shadow, which are difficult to identify in aerial photography, with uniform planar accuracy.
This technology is especially useful for quickly assessing the situation following a large-scale soil erosion disaster.
Change over the years for multiple time periods can be accurately assessed, enabling the accurate assessment of medium/long-term sand dynamics, and serving of use in appropriate basin sand management.