Geospatial × ICT
Comprehensive water supply services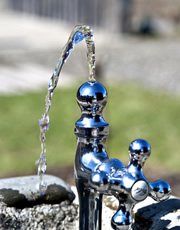 Water supply is a vital infrastructure, indispensable in our daily lives. Most water supply services are provided by local governments; some, however, have difficulty maintaining adequate or improving their services for various reasons such as loss of revenue due to falling demand and management of aging facilities.
Kokusai Kogyo, in conjunction with Group companies, provides comprehensive water supply services, such as via Japan's designated service provider system* .
We maximize efficiency in operation and management (O&M) of water intake, treatment and distribution facilities using geographic information systems (GIS) to ensure profitability and optimal management of water supply services.

Our comprehensive water supply services on behalf of local governments help to increase efficiency of public services.
We provide effective asset management services you can trust. Our vast operation and management expertise is based on a long history of planning and designing water supply facilities.
We supply safe and clean drinking water through water quality monitoring using the most advanced environmental monitoring and surveying technology.
* System whereby a private sector company, NPO, NGO, etc. is designated as a service provider or responsible for operation and management of a public facility by a local government under Japan's Local Government Law.