Geospatial × ICT
Urban planning support system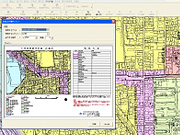 Our urban planning support system (UrbanMap) supports various urban planning tasks, including normal line specification, urban plan creation, use of maps in urban planning base surveys, and preparation of data for analysis, evaluation, and city-building.
UrbanMap integrates Kokusai Kogyo's expertise in surveying, analyzing, and planning using GISs for application in the development of various types of plans using comprehensive tallying and analysis functions. It is a package software program that supports local municipalities in various operations related to urban planning.

The basic city planning surveys are conducted every 5 years, but UrbanMap updates only changed areas, resulting in cost savings. Furthermore, UrbanMap can save the data in the data format (Arcview shp file) used in the urban planning information system of each prefecture, resulting in problem-free submission of results.
You can register frequently used menu items in toolbars and check all graphics and attributes in a single window.
UrbanMap supports graphic index search, drawing number search, facility number search, ZIP code search, target object search (allows the user to add or update the target object), and address search (to access city district reference data, housing map data, etc. provided by the Geospatial Information Authority of Japan).
In addition to managing the basic survey results, you can create a wide variety of subject maps using the versatile setting-editing function to add colors to only certain applications, for example. You can also tally and analyze building status data. For example, you can use building structure and density as keys to identify dangerous areas.
Using the analysis function, you can assess the current status of a site designated for road building within your urban plan, by creating a list of land parcels and buildings located within the planned site and identifying them by use.
You can search for attribute data (data specified by law) within multiple layers simultaneously.