Geospatial × ICT
Sewage management system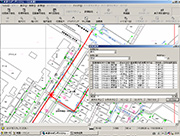 The sewage facility data management system (SeSe-Line) is a package software designed to improve the efficiency and sophistication of sewer service facility management operations by properly managing and utilizing the massive amounts of data and information surrounding service operations.
Our system is capable of delivering a large amount of spatial data at high speeds and is user-friendly, even for employees who are not familiar with its operations.
The wide variety of functions included in addition to the system's viewing and printing functions, provide operational support and help improve the efficiency of creating various types of reports.
Furthermore, you can choose to use an individual (C/S) GIS-type system having specialized functions, a WebGIS-type system that can be used by many employees at low cost, or both in combination.

[Operational support that satisfies the functional requirements of local municipalities]
We offer powerful support for day-to-day operations by introducing a system possessing essential functions based on the Sewage Register Management System Standard Specifications (Draft) , as well as a full suite of operational support functions (including functions for managing sewage facilities, houses without sewer connection, service payment delinquencies, and camera survey results).
[Providing a system that can distribute data]
Our system allows you to provide sewage installation location data (data on sewage facilities and topography) extracted from the system to construction companies as CAD data. Construction companies can then incorporate their construction results into the CAD data and deliver their completion reports electronically, allowing the results to be easily uploaded into the system.
[Easy-to-use user interface]
You can register frequently used menu items in toolbars and check all graphics and attributes in a single window.
[Extensive map data retrieval functions]
Our system comes with extensive map data retrieval functions, including graphic index search, drawing number search, facility number search, ZIP code search, target object search (allows the user to add or update the target object), and address search (to access city district reference data, housing map data, etc. provided by the Geospatial Information Authority of Japan).
[Network tracing function]
Because our system organizes all sewage lines as network data possessing internal connection information, it can trace a line upstream or downstream of a manhole. This data allows you to quickly respond to inquiries regarding foul sewage water, etc. from citizens and administrative organizations.
[Extensive optional functions]
Our system offers an extensive list of optional functions that are perfect for day-to-day operations, including a wastewater facility management function, function for computing sewer-connection rates, dedicated sewage management function, sewage service fee management function, camera survey result management function, and a touch panel system (for customer service windows).