Geospatial × ICT
Sewage management support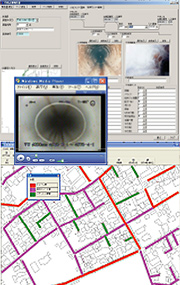 At present, population decreases, heightening awareness about the need to reduce water usage, and better maintenance and management of facilities are worsening the financial conditions of sewer service agencies. At the same time, sewage facilities are essential lifelines for removing sewage and rainwater and maintaining water quality in public waterways, and these agencies are expected to extend the useful lifespan of their facilities and maintain accountability in their operations. To provide these sewer services with limited financial resources and personnel, it is necessary to properly manage and utilize the massive amount of facility data needed by sewage service operations, so that it can be quickly and easily viewed by anyone.
Based on the experience in planning, designing, maintaining, and managing sewer facilities we have gained over the course of many years, Kokusai Kogyo can help you develop plans for extending the useful lifespan of facilities, create efficient maintenance and management plans, survey and evaluate fixed properties, provide operation management tools such as mapping systems, and build a database.

We support you in promptly handling inquiries from businesses and residents.
We support you in receiving, managing, and tallying various types of questions and requests from businesses and residents.
We help you tally sewage pipes and create plans for updating and expanding them.
Utilizing sewage service register data, terrain data, and data related to disaster prevention, we support you in developing plans to make sewage pipes earthquake-proof.
To prevent accidents and minimize lifecycle costs, we can help you develop plans for extending the useful lifespan of sewage pipes and carry out efficient maintenance and management operations.
We manage sewage service applications (sewer-connection status of residences, and sewage facility construction status) using a sewage service register map.
We survey and evaluate fixed properties in order to ensure the proper maintenance and operation of facilities into the future.