Geospatial × ICT
Road data management system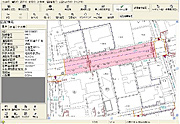 Road management means "building new roads and improving/maintaining/repairing existing roads in order to achieve the original purpose of use as facilities for general traffic," and "preventing, removing, and regulating obstacles that may interfere with the purpose of use of roads." To achieve these goals, road managers carry out a wide variety of tasks, including managing boundary data, roadside structures, and road-related facilities, as well as road registers. Since the volume of data involved is huge, many problems can occur, such as increases in the number of data organization tasks, the scattering of data, and increases in data search time and data storage space.
The Tao road data management system is a package software program that offers a full suite of functions, and was developed in order to assist road managers and improve the efficiency and sophistication of their operations. It is based on a GIS and can centrally manage text data, numeric attributes (registers), and image data (assessment maps, construction maps, etc.).

[Compatible with the road register management data product specifications]
Tao can build and provide data that is compatible with the road register management data product specifications, expected to be published by the Ministry of Land Infrastructure and Transport in the near future.
[Easy-to-use user interface]
You can register frequently used menu items in toolbars and check all graphics and attributes in a single window.
[Extensive map data retrieval functions]
The system comes with extensive map data retrieval functions, including graphic index search, drawing number search, facility number search, ZIP code search, target object search (allows the user to add or update the target object), and address search (to access city district reference data, housing map data, etc. provided by the Geospatial Information Authority of Japan).
[Input/output of many types of map data]
The system supports GIS standard data, as well as the data input format of the ROADIC and output in the DM format.
[Easy register and record creation]
You can create an input window form by simply controlling an external table, and create an output form by simply controlling an Excel template and an external table.
[Effective utilization of survey data]
You can import survey data created in the CAD or SIMA format into the system. You can also use various kinds of survey and computation functions.
[Practical printing functions]
The system provides many practical printing functions, including capturing and printing what is displayed on the screen or a desired range, and printing data by specifying a reduction rate and a paper size. You can also easily add decorative items such as titles, azimuths, and legends, and can print image data in its actual size.