Geospatial × ICT
Road data management system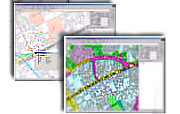 Road management operations handle a wide range of data related to inspections, repairs, accidents, and complaints, etc. These types of data are useful for planning for construction, maintenance, and repair of the roads themselves, and can also be utilized as important bases for reassessing management standards and explaining individual projects.
Thus, a framework is required that can systematically accumulate and organize this wide variety of data. Kokusai Kogyo utilizes its GIS (geographical information system) as a data management tool to provide a framework that systematically accumulates and manages data during day-to-day operations. Furthermore, we also provide consultancy services that help you optimize road projects by evaluating projects and managing assets utilizing our accumulated data.

We efficiently organize and provide the data (base data) that forms the common base for accumulating various types of data.
We accumulate various types of data, integrating it with the base data, and provide WebGIS, which supports individual operations and data sharing within departments.
Through linkage with existing systems, such as the CALS electronic project result delivery system, we provide frameworks that update data at low cost.
Utilizing the tallying and analyzing functions of our GIS, we provide a function that visualizes road status based on accumulated data.
By adding data, such as on-site images and road surface conditions, we provide advanced support for assessing road conditions and explaining projects.