Geospatial × ICT
Building and adopting GIS compatible with local data platforms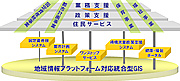 Efforts are underway to use joint outsourcing to introduce GISs that will be easy to use for both local public entities and local residents. For example, the open-source, bi-directional WebGIS, jointly developed with Urayasu City, Chiba Prefecture and registered in the program library of the Local Authorities Systems Development Center (LASDEC), can be utilized to reduce the human and financial burden related to system installation.

To concretize the services that can be utilized by local administrations through LGWAN (Local Government WAN) connection, we provide services in the ASP style.
This system can be used by local residents through Internet connection, and also achieves bi-directional capability through LGWAN connection.
This system can be used by multiple local public entities either separately or cooperatively.