Geospatial × ICT
Urban master planning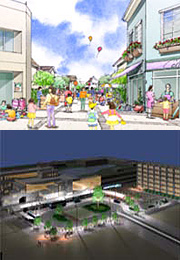 All over Japan, coping with population declines and aging populations, and the achievement of a safe and secure life are becoming issues requiring urgent attention. Furthermore, obtaining residents' consent on the kind of cities to be built, creating high-density urban structures, and forming a low-carbon society have become important societal needs.
In order to address the issues faced by cities and satisfy their needs, Kokusai Kogyo will continue to provide solutions for effectively managing cities by advancing and integrating our urban planning and spatial information technologies.

Our service can not only create 2D models of the basic spatial information related to cities, including population, land, buildings, roads, and vegetation, but can also build 3D city models showing a wide variety of visual characteristics.
Our service analyzes and runs simulations of the urban issues that occur as society changes, and analyzes the distribution of buildings, narrow roads, and vegetation.
Utilizing the obtained spatial data and analysis results, our service suggests the measures necessary for developing and implementing master plans for urban planning, district planning, basic living area planning, city planning for disaster prevention, scenery planning, and basic vegetation planning.
Our service provides a GIS for assessing and analyzing the current state of cities, as well as a tool that uses a 3D urban model to obtain the consent of residents.