Disaster research activity
Responding to natural disasters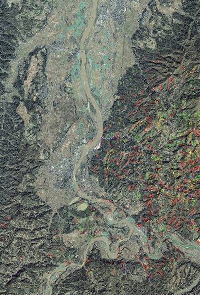 Corporate Contribution through Secondary Disaster Prevention and Recovery
Kokusai Kogyo has a long history of CSR activities in the wake of natural disasters. In the immediate aftermath of the tsunami of March 11, 2011, Kokusai Kogyo was ready to deploy its vast resources and expertise to the disaster zone. Despite having a survey aircraft swept away by the massive waves, its aerial photography team was in the air at first light the morning after the catastrophe, relaying geospatial information back to be analyzed and interpreted by various experts such as seismologists, oceanographers, geologists and geographers. These extensive and voluntary surveys from the air and on the ground have provided the central and local governments and international agencies with data vital to their relief, recovery and reconstruction efforts.

In addition to fostering specialists in disasters and utilizing them in disaster prevention consulting, Kokusai Kogyo firmly believes that it has a social responsibility to implement its corporate policy of "ensuring that people can live life in safety" through such activities.

The photo on the right is a disaster status image of the 2004 Chuetsu Earthquake in Niigata that Kokusai Kogyo produced at its own discretion, and which was distributed free of charge to the national government, Niigata Prefecture, Yamakoshi Village and Nagaoka City. It was credited for having been effectively used for damage assessment and recovery measures.

Apr. 2016
Sep. 2015

Mount Aso volcanic eruption, Kumamoto Prefecture
Sep. 2015

Kuchinoerabu Island volcanic eruption, Kagoshima Prefecture
Sep. 2014

Mount Ontake volcanic eruption, Gifu and Nagano prefectures
Aug. 2014

Torrential rain devastation, Hiroshima City, Hiroshima Prefecture
Aug. 2014

Torrential rain devastation, Takayama City, Gifu Prefecture
Aug. 2014

Torrential rain devastation, Fukuchiyama City, Kyoto Prefecture
Jul. 2014

Torrential rain devastation, Nagiso Town, Nagano Prefecture, caused by Typhoon No. 8
Oct. 2013

Torrential rain devastation, Izu-Oshima Island, Tokyo, caused by Typhoon No. 26
Sep. 2013

Torrential rain devastation, the Yura River basin, Kyoto Prefecture
Sep. 2013

Tornado damage to Saitama and Chiba prefectures
Jul. 2013

Torrential rain devastation, Yamaguchi and Shimane prefectures
Jul. 2012

Torrential rain devastation at northern Kyushu area
May. 2012

Tornado damage to Ibaraki and Tochigi prefectures
Sep. 2011

Torrential rain devastation at Kii peninsula, caused by Typhoon No. 12
Jul. 2011

Torrential rain devastation in Niigata and Fukushima prefectures
Jul. 2011

Landslide devastation at eastern part of Kochi Prefecture
Mar. 2011
Jan. 2011

Shinmoedake volcanic eruption, Mount Kirishima, Kagoshima Prefecture
Jul. 2010

Torrential rain devastation, southern Gifu Prefecture
Jul. 2010

Torrential rain devastation, Shobara City, Hiroshima Prefecture
Jul. 2010

Torrential rain devastation, Shimonoseki City, Yamaguchi Prefecture
May 2010

Higashi-Meihan Expressway landslide, Kameyama City, Mie Prefecture
Oct. 2009

Tornado damage to Tsuchiura City, Ibaraki Prefecture, caused by Typhoon No. 18
Aug. 2009

Torrential rain devastation, western Hyogo Prefecture
Aug. 2009

Devastation caused by Suruga Bay earthquake
Jul. 2009

Torrential rain devastation, Yamaguchi Prefecture
Jun. 2008

Iwate-Miyagi Nairiku Earthquake
Jul. 2007

Chuetsu Offshore Earthquake, Niigata Prefecture
Jul. 2007

Devastation in Kagoshima Prefecture caused by Typhoon No. 4
Jul. 2007

Torrential rain devastation in Kumamoto Prefecture
Mar. 2007

Slush avalanche devastation, Mount Fuji
Mar. 2007

Noto Peninsula Earthquake, Ishikawa Prefecture
Nov. 2006

Tornado devastation in Saroma Town, Hokkaido
Sep. 2006

Devastation caused by autumn rain front and Typhoon No. 13
Aug. 2006

Debris flow devastation, Shizukuishi Town, Iwate Prefecture
Jul. 2006

Torrential rain devastation, southern Kyushu
Jul. 2006

Landslide devastation in Nagano Prefecture
Jul. 2006

Torrential rain devastation in Kagoshima Prefecture
Jun. 2006

Landslide devastation caused by persistent rain, Okinawa Prefecture
Jun. 2006

Volcanic eruption in vicinity of Sakurajima Minamidake and the Showa crater, Kagoshima Prefecture
Mar. 2006

Mount Meakan volcanic eruption, Hokkaido
Sep. 2005

Typhoon No. 14 devastation
Aug. 2005

Miyagi Prefecture offshore earthquake
Mar. 2005

Western Fukuoka Prefecture offshore earthquake
Oct. 2004

Chuetsu earthquake in Niigata Prefecture
Sep. 2004

Landslide devastation in Miyagawa Village, Mie Prefecture, caused by Typhoon No. 21
Sep. 2004

Mount Asama volcanic eruption, Nagano and Gunma prefectures
Jul. 2004

Torrential rain in Fukui Prefecture
Jul. 2004

Torrential rain, Niigata and Fukushima prefectures
Jul. 2003

Northern Miyagi earthquake
Jul. 2003

Torrential rain devastation, Kyushu
May 2003

Sanriku-Minami earthquake, Miyagi and Iwate prefectures
Sep. 2000

Torrential rain devastation, Tokai region
Mar. 2000

Mount Usu volcanic eruption, Hokkaido
Sep. 1999

921 earthquake, Taiwan
Sep. 1998

Torrential rain devastation, Kochi Prefecture
Jan. 1995

Great Hanshin-Awaji Earthquake
Jul. 1993

South-west offshore Hokkaido earthquake
May 1983

Middle Japan Sea earthquake