Geospatial × ICT
Map ASP service
NETMAP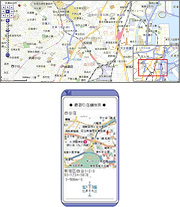 NETMAP is being reborn.
Until now, the main service of NETMAP was providing guide maps to stores and facilities.
NETMAP 2.0 offers major enhancements, including ease of operation, more visually pleasing maps, and the ability to embed a map into your own web page, as well as create a map-search site and link to SaaS.

NETMAP can support nearly all services that utilize maps, such as showing real estate properties on the most up-to-date map, adding a map to a coupon distributed over the Internet, and overlaying one's own data on Google Maps.

[Map operations]
* Smooth free-scrolling.
* Higher speed using a map cache.
* Location look-up using an index map.
[Enhanced content]
* English-version maps.
* Hospital data.
* Evacuation information.
* Railway/subway station and route information.
[Providing APIs]
* Provides JavaScript APIs that can be embedded into customers' web pages.
* Geocoding, route search, and address search APIs are provided as options.
[Search from your current location]
* You can use the GPS position acquisition function of your cell phone to confirm your current location.
* You can search for registered locations by proximity to your current location
Search from a station or search for a station.